THE HAMA "C-600 PRO" HIGH-RESOLUTION WEBCAM:
YOUR IDEAS, YOUR PRESENTATION, YOUR MOTIVATION IN FULL HD
The images are blurred and pixelated, the sound is unclear and distorted? Quite annoying when video chatting with friends, and an absolute no-go in the case of an online interview! Our webcam outperforms most laptop cameras many times over: Instead of 720p, it has a resolution of 1920 x 1080 pixels, and thanks to the integrated stereo microphone, it also delivers crystal-clear sound.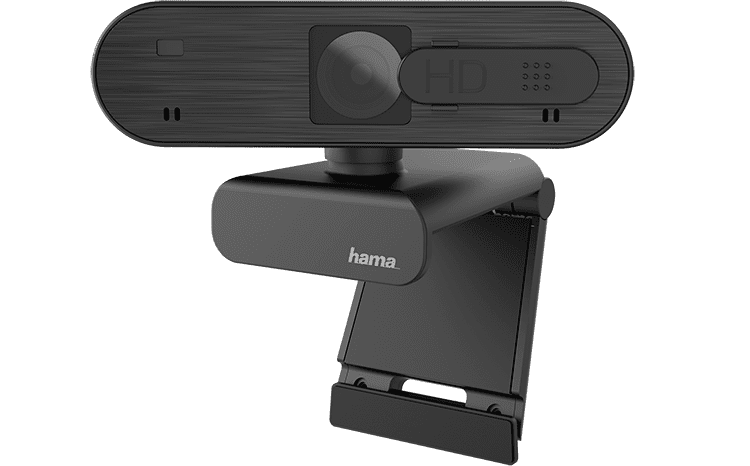 WEB CAMERA FOR A DESKTOP COMPUTER OR LAPTOP
Skype meetings in the home office, webinars and remote learning, but also online fitness courses, gaming sessions and video calls with family – to make use of these possibilities, you need a webcam. The 'C-600 Pro' USB camera is ideal for desktop computers and for upgrading notebooks. Plug and Play: Simply connect the USB-A plug to your PC and you're ready to go. Thanks to the UVC standard, you don't have to install any drivers or software.
DETAILED IMAGES IN THE RIGHT LIGHT
The Full-HD camera is capable of recording at a resolution of up to 1920 x 1080 pixels, and thus produces images and videos of the highest quality. Perhaps you have made a quick sketch of a circuit diagram during a telephone call with a colleague, or want to show grandma the kids' latest artworks in a video chat? Thanks to Full HD and autofocus, every detail is razor-sharp.

The autofocus function follows your movements, and ensures that your gestures, or models that you show in front of the camera, are clearly visible. This function is also ideal for presentations given standing, or for recording videos for your workout channel on YouTube.

If your boss barely recognises you in a video call due to the sparse lighting, it doesn't make a professional impression. Our professional webcam comes with automatic exposure adjustment, and automatically compensates for unfavourable light conditions. Now your stream won't appear too dark if the conference is held early in the morning or late in the evening.
TWO INTEGRATED MICROPHONES FOR OPTIMAL STEREO SOUND
To secure the order, you have prepared a brilliant pitch. You create your presentation, step by step, on the flipchart and move freely in the room. But most webcams have only one microphone, and are designed for use while sitting directly in front of the camera. Not our 'C-600 Pro' business webcam: The two built-in microphones produce a clear, natural sound and enable improved speech quality. Now, at last, you are correctly understood. The stereo microphone is especially practical for phoning with Voice over IP (VoIP); for example, for video conferences with Skype, Teams or Zoom, for making video recordings for YouTube, for live streams on Twitch, and much more.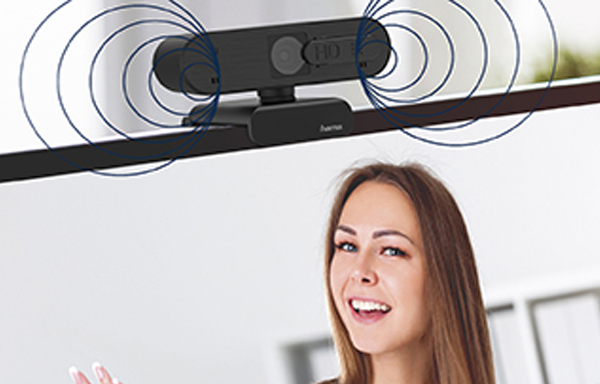 WHAT'S IMPORTANT IS THE FIELD OF VIEW
The big team meeting with staff from different company locations is about to take place. To avoid feedback, the entire office gathers around a camera. If the image field captured by the streaming camera is too small, only one or two people in the middle of the image are visible. Colleagues at the edge either appear blurred or cannot be seen at all. Our web camera, on the other hand, enables a wider field of view. The 76-degree field of view is the optimal average – not too narrow or extremely wide. So when you're working in your home office, the pile of laundry on the ironing board, or the magazines in disarray on the coffee table, remain unnoticed.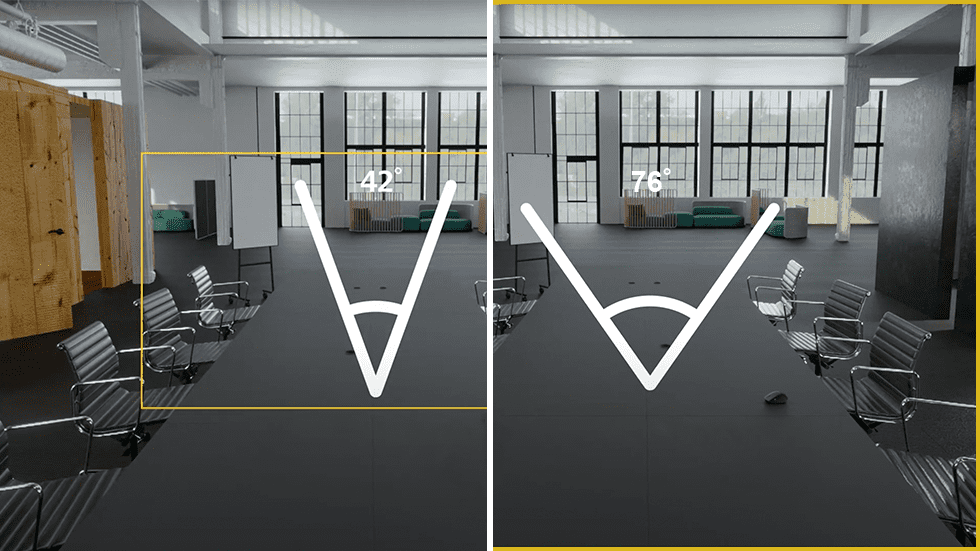 Conventional angle of view vs. angle of view Hama "C-600 Pro"

SPY PROTECTION PROTECTS YOUR PRIVACY
Better safe than sorry: When you are not using your webcam, you can slide the cover over your camera lens and, that way, protect yourself from spying. If a hacker does manage to activate the camera without your noticing, all he/she will see is a black screen. In addition, the status LED is lit when the PC webcam is on. You can therefore see at a glance whether the camera is active.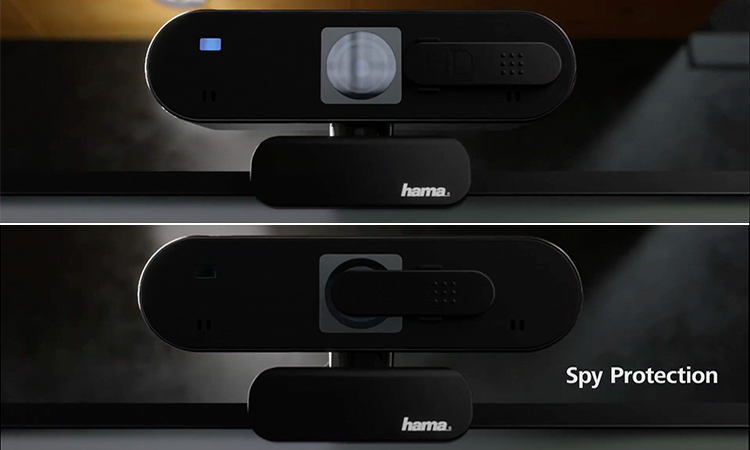 FLEXIBLE POSITIONING
Unlike an integrated laptop camera, you can attach our PC camera wherever you want. With the clip-on base, it can be secured at the side or at the top of your monitor, for example. The video camera has a 1/4-inch tripod thread, meaning that it can also be mounted onto all standard tripods. In this way, you can change the angle quickly and easily without having to completely rearrange your desk. Maybe you want to show documents or models to your colleagues in a video conference? This is also possible: Simply take hold of the camera and show your designs.
Our 'C-600 Pro' Full-HD webcam helps you to overcome boundaries, conduct personal conversations at eye level, and to share your life with others.