THE COMPACT ALL-ROUNDER AMONG USB-C HUBS – WITH 12 PORTS AND WIRELESS CHARGING FUNCTION
CONNECT MANY DEVICES, TRANSFER INTERNET AT SUPER SPEEDS AND EVEN CHARGE SMARTPHONES WIRELESSLY WITH THE HAMA "CONNECT2QICHARGE" DOCKING STATION
With the compact "Connect2QiCharge" hub for your PC, you can easily and conveniently connect all your peripherals or those of a customer on site. Fast data transfer is guaranteed by the USB 3.2 standard, which the multi-port adapter also supports. The USB-C docking station also charges your smartphone inductively. Stable and robustly built, it can be taken on business trips, but also feels at home on the desk in the office or home office. Despite its numerous functions, the adapter is so space-saving that it easily fits into a laptop or tablet bag.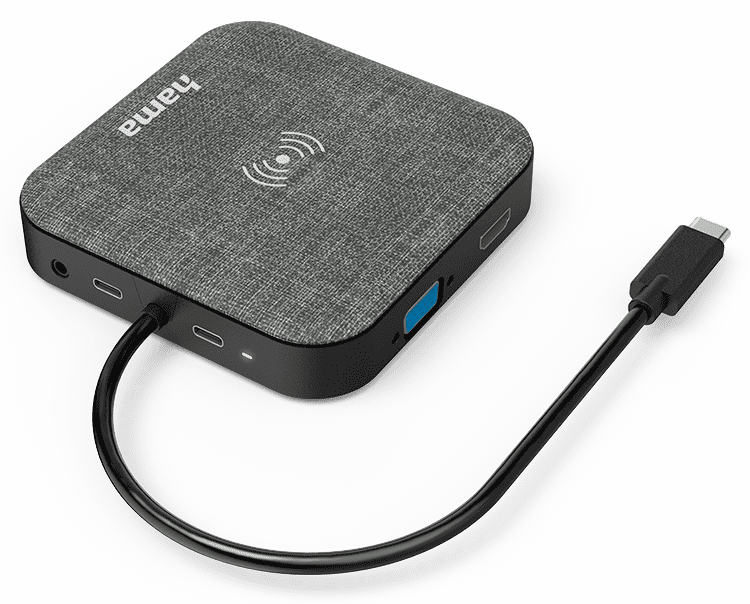 MAXIMUM FLEXIBILITY THROUGH MANY CONNECTION OPTIONS
Modern laptops and ultrabooks are super-slim, light and easy to transport. Big disadvantage: they usually only have a few ports, and USB-C ports in particular are quickly occupied. In everyday life, however, you want to connect devices for which a WLAN connection is not sufficient, whether it be a monitor, printer, mouse, keyboard, headset, external hard drive or memory card. Thanks to the Hama "Connect2QiCharge" USB-C hub docking station, you can do just that. And all devices at the same time, regardless of which connection the screen has!
Thanks to the hub's 12 connections, every conceivable peripheral can be connected to the PC, notebook or tablet. It no longer matters where the computer is or what accessories you want to connect to it: make life easier for yourself and enjoy freedom and flexibility thanks to the versatile USB-C hub.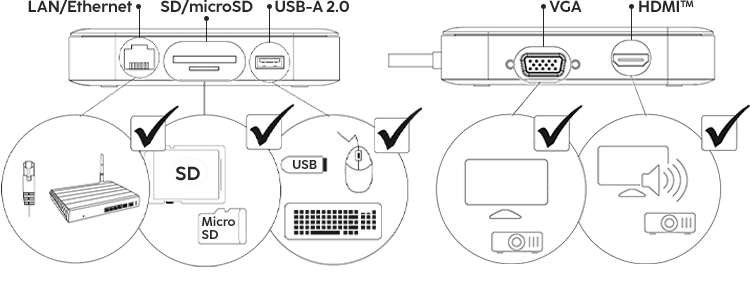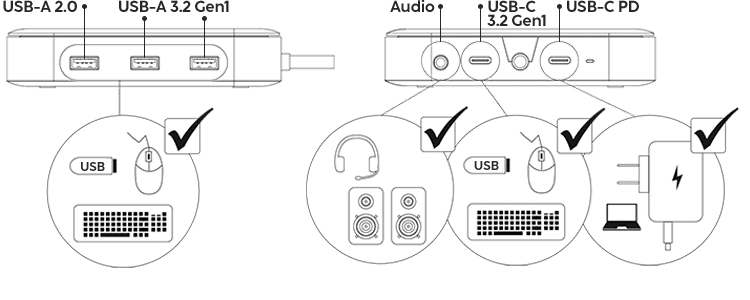 MODERN CONNECTIVITY: MAXIMUM PERFORMANCE AND IMMEDIATELY READY FOR USE
A wide range of devices can be connected with the USB-C docking station. Want to show your friends a video in Ultra HD on their big TV at home? No problem. Simply connect via the USB-C adapter and you have video transmission in 4K picture quality. Do you own an Apple MacBook and want to connect your peripherals via a jack? The hub supports the Thunderbolt 3 and 4 standards.
You can also connect USB-compatible hardware without any problems. A reassuring plus point: the USB-C hub is based on the plug-and-play principle, so no further software or driver installations are necessary. If you need to copy some data quickly, plug an external drive into one of the USB 3.2-compatible ports and transfer the data in no time at up to 1 Gbps. It really doesn't get any faster than that!
INDUCTIVE CHARGING: WIRELESS, CONVENIENT AND FAST
Of course, it can all happen while on the move too: you're sitting in a café working on your laptop when your smartphone pings: Battery almost flat! And just when an important customer was due to call in 20 minutes! There is a power socket at the seat, but unfortunately you left your mobile phone charger at home.
The solution is another exceptional feature of the USB-C QI adapter: while you work, the USB-C hub can inductively charge compatible phones. For this, the hub only needs to be connected to the external power supply via the USB-PD power supply unit. Then simply place your smartphone on the docking station for wireless charging and nothing stands in the way of that important phone call. Of course, you can also charge your mobile phone with a USB connection via the ports. Use the hub as a USB-C charger for popular models from Samsung, Google, Xiaomi, Oppo and other manufacturers.
INGENIOUSLY ARRANGED CONNECTIONS
The USB-C hub impresses with its versatility and large selection of connections. Anyone who presents to customers on site must be able to cope with the available equipment in the shortest possible time and sometimes use several plugs at the same time. If two adjacent connections are quite wide, such as the VGA connector and a USB stick, then problems can occur with other hubs. But not with the "Connect2QiCharge": This is because the generous spacing of the sockets facilitates the simultaneous use of the various ports – despite the very compact dimensions of the multifunctional adapter.
STABLE IN ANY LOCATION: ROBUST BEND PROTECTION
Versatile notebook accessories such as USB-C adapters and docking stations have to withstand a lot: a robust design is a must, because they are often unpacked and repacked, the cables frequently plugged in and unplugged. Depending on where you are, the hub slides back and forth, for example when working on the road, on the bus, train or plane. If a cable is moved too often or too much, it may break sooner or later.
But here, too, you have a clear advantage with the "Connect2QiCharge". This is because the flexible materials guarantee optimised kink protection for the cable – and thus reliability over a very long period of time. This USB-C docking station won't cause you to wobble, either, because the rubberised feet prevent you from slipping around in the corners right from the start.
SIMPLY ALWAYS WITH YOU: THE USB HUB FOR EVERY SITUATION
In everyday life, professionally and privately, many things become easier: the USB-C hub expands the interfaces of your laptop and makes a wide range of peripheral devices usable everywhere, whether at a meeting with a customer or when visiting friends. In the office, for example, you connect the LAN cable for the Internet with super speed – and finally put an end to the shaky WLAN connections in the crowded office. You always have an overview at your desk because connecting large monitors is no longer a problem. Even the headset for phone calls and conferences can be conveniently and stably connected via USB instead of Bluetooth when travelling.
On the road for longer and headphone battery empty? You can also continue listening to the latest podcast episode via jack plug or USB-A. And if you have the time and leisure right now to view the photos on your camera's memory card directly, simply insert the SD card into the card reader slot and scroll through. The Hama "Connect2QiCharge" USB-C hub enables optimal connectivity wherever you are!